Why visit Yellowstone? Sights like this:
There is no place like it on Earth.

It deserves your respect and admiration. Treat it like it's nature's cathedral. If you don't, then signs like this will apply to you:
A few basic questions you might have, and, yep, I have answers, in this post and others to come. Let's start with 1) Where is it & what's the best way to get there (btw when I googled a Yellowstone map recently the top few searches included "Is Grand Canyon a Part of Yellowstone?" umm...no. That's a whole other STATE.)? 2) Where do I stay & when should I visit? 3) How do I get the most out of my time in and near the park? 4) Is Ystone dangerous? (Answer: Yep.) 5) Where are the damned animals?

Let's start with where it is and getting there. It takes up portions of Wyoming & Montana, and a bit of Idaho. Here's a map:
I enjoy road trips, so we make the drive from Texas, with a stopover or two in Colorado. But, if you want to fly in, the easiest is Bozeman or Jackson Hole. West Yellowstone also has a (tiny) airport, but they don't have flights year-round. If you stay in the Jackson area, you will be further from the park than if you choose Montana. My advice: do both. Fly in to Jackson Hole, stay in Teton Village, & enjoy the town square in Jackson and Grand Teton National Park (hike around Lake Jenny, trust me-
-while you explore the southern part of Yellowstone. Next, fly in to Bozeman, spend a night at the Element Hotel or the Lark Hotel and visit their adorbz downtown, especially if you can make it during the summer and one of their downtown festivals. Eat breakfast at the Western Cafe, shop around Main Street, eat lunch at Best Burger (and, oh, it is) on your way out of town, then make the drive through the Gallatin Canyon, which may just be the most beautiful drive in the USA,
and stay in West Yellowstone, MT. The entrance to the park is literally in town. And West is cute in its own way, not nearly as highfalutin or expensive as Jackson.

If you decide to camp, make sure you reserve a spot or have a backup plan. Campgrounds fill up. The hotels in the park also book up waaayyy in advance (like, a year), and they are very expensive. Any of the towns outside of the park are a better bet.

When should you visit? Well, sorry to break it to USnews.com, who says this:
"The best times to visit Yellowstone National Park are from April to May and between September and November." NOPE.
Why? Most of Yellowstone Park is LITERALLY CLOSED to cars between Thanksgiving & Mother's Day. Now, if you can make a trip in the fall, that's the BEST. You'll get sites like these Aspen trees changing color, without the big giant crowds:
Plus, in the fall, chances are you'll get to see and hear the Elk rut. Head up to Mammoth Hot Springs for the best opportunities for that. And, be sure you and your car don't get too close. Wait for 1:20, below, if you doubt me.
If you do decide to visit in the wintertime, when most of the park is closed to cars, you can enjoy parts of the park via snowmobile. Stay in West Yellowstone and book a guided tour into the park (the only way to tour it during that time) through Two Top Rentals or just rent a snow machine from them and go out on the miles of trails around town. It's like a fairy tale. This could be you:
and you could see sights like this:
Be sure to eat at the burger place that is only accessible via snowmobile during the winter.

3) How to get the most out of your park visit? The park is set up in a figure 8. The references I make to places like Canyon, Roosevelt, & Mammoth are junctions or villages where the loops connect. Most junctions will have food and/or gas. Some have nice restaurants. You won't starve in the park, but it still wouldn't hurt to bring your own snacks for the car, since the distance between junctions can take longer than it looks. Speed limits are 45, max, & there is always the chance of a bison traffic jam, which can take hours sometimes.
Research! Get a Lonely Planet. Look into group travel and tours…then make your own itinerary. Do it before your entry to the park, because cell phone coverage is virtually nonexistent in most of the park.

Buy your entry ticket in advance. This way you can head to through the entrance in the pre-laid lane. Or, just get yourself a national parks annual pass. "The Forest Service, the National Park Service, Fish and Wildlife Service, Bureau of Land Management, Bureau of Reclamation, and US Army Corp of Engineers honor the Annual Pass at sites where Entrance or Standard Amenity Fee(s) (Day use fees) are charged."

Eat at Roosevelt Lodge. Shop & have an adult beverage at Canyon.

Wear your flip-flops in the car, but bring comfy walking/hiking shoes and moisture-wicking hiking socks.

When you see cars stopped, pull over to the side of the road, 'cause it's likely an animal! The longer the line, the more likely it is that it's a bear stop. If you get out, please please please keep quiet. You're in the animals' backyard, not your own.

Keep a hand-written journal. Keep your receipts, especially from restaurants. They make a great memory.
As for what NOT to miss? The Grand Canyon of the Yellowstone (named first; they STOLE it for that other place!):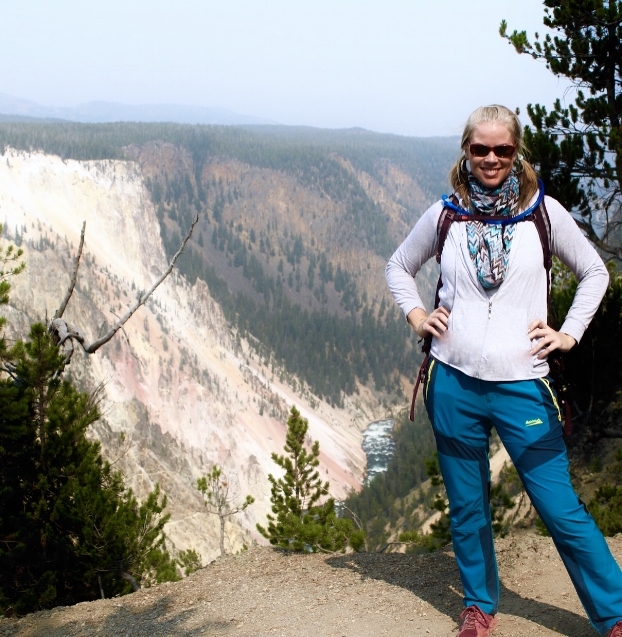 The Brink of the Lower Falls.
(The Brink of the Upper Falls is under construction for the near future, but when it is open again, the view at the bottom is TOTALLY worth the walk back up.)

And Biscuit Basin, which features geysers & bubbling pools, and leads to the trailhead for Mystic Falls.
If you decide to go to Old Faithful -
- and most people do, keep a couple of things in mind: 1) the geyser will have just gone off just BEFORE you get there, so settle in to the Inn; 2) go to the Bear Pit Bar in the back left corner. It's never crowded and serves pretty good snacks & drinks; 3) other geysers, like Lone Star, are pretty spectacular, too, with far fewer people. As in, like, 6 people; you just gotta hike to get to it: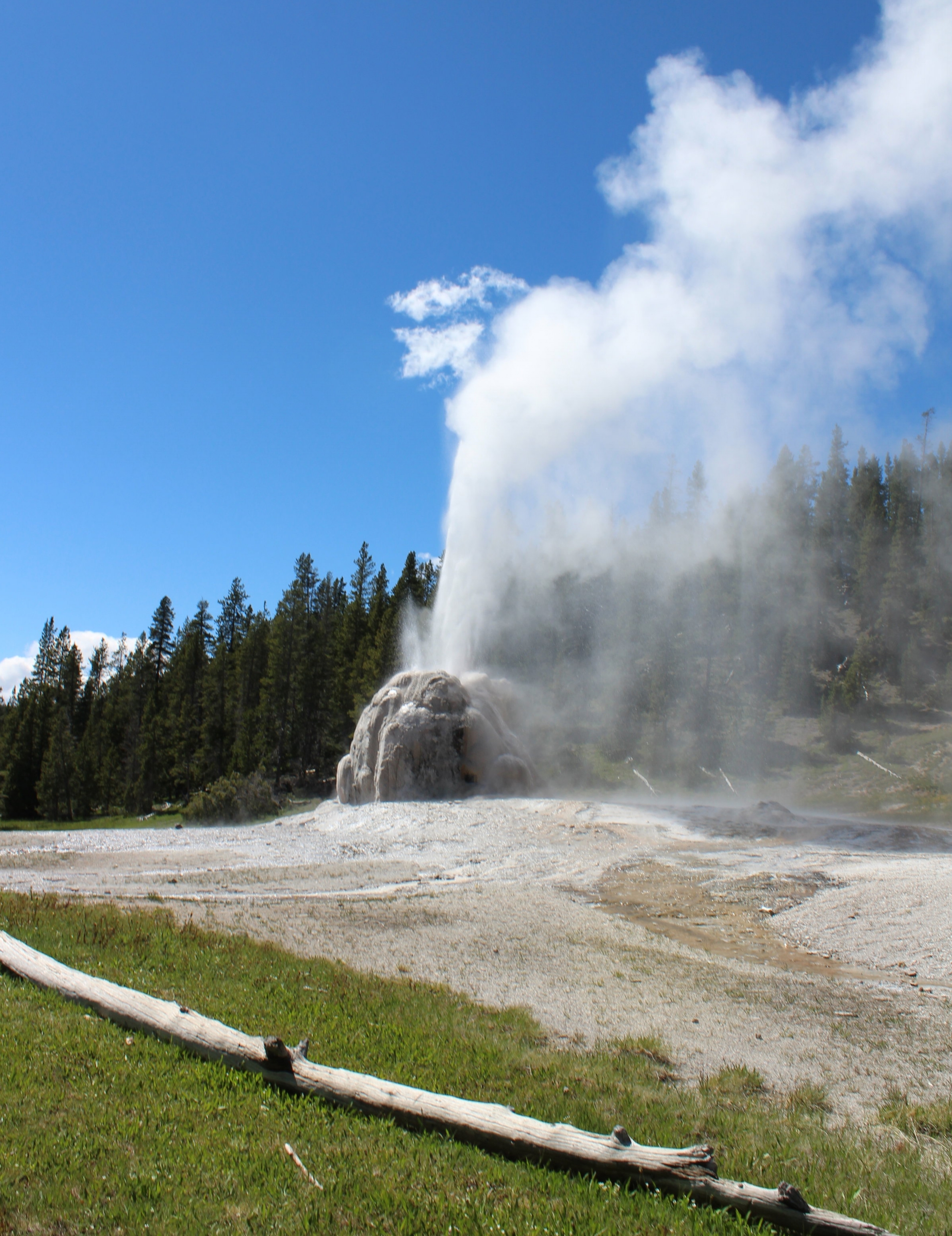 And finally, Question 5 - Where are the damned animals? Well, you gotta go look for them. Don't do what one idiotic reviewer did at a local hotel, and complain that "you need to train your animals better. We didn't see any bears." Here is a site with great info of the Lamar Valley, known as the Serengeti of the USA, and the place you're most likely to see a bear or a wolf pack (btw, don't make the mistake of saying "we saw a wolf" after you see a coyote:
It happens a lot. Don't let it happen to you.). For bears, Mount Washburn (between Canyon & Roosevelt) is your best bet, and even if you don't see bears there, you will see some of the most incredible vistas: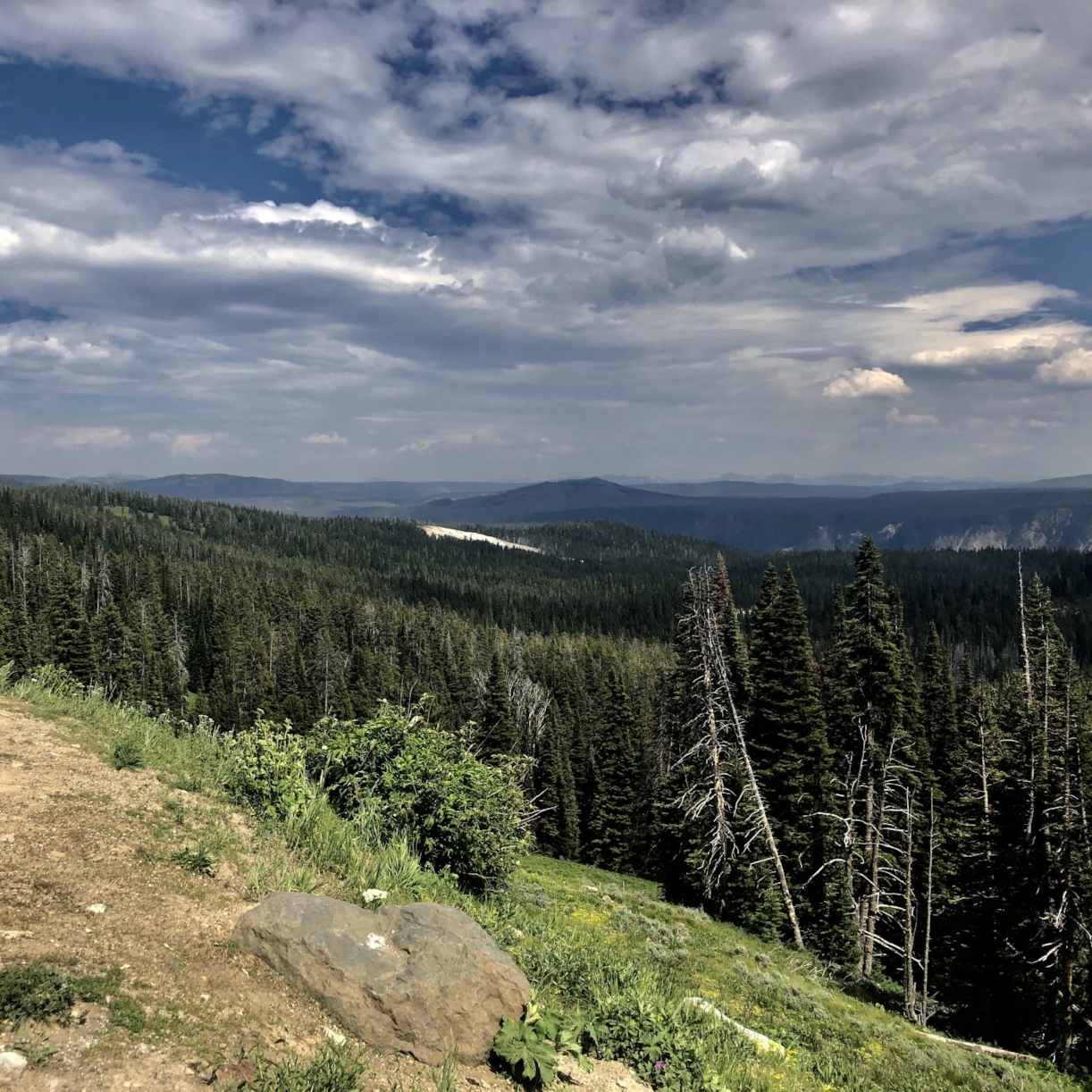 That's enough to get us started on my favorite place. Next time we will touch on things to do OTHER than the usual (Old Faithful, Grand Prysmatic) and explore a few other topics, like, where/how to enjoy hiking in & around the park, and directly dive in to why the answer to question #4 is an absolute Yes! Yellowstone is dangerous. It's also why you shouldn't do this:
Ask me any questions you have, below! If I don't know, I'll sure find out the answer.

Until then, welcome to Yellowstone. Take nothing but pictures. Leave nothing but footprints. Kill nothing but time.
VV