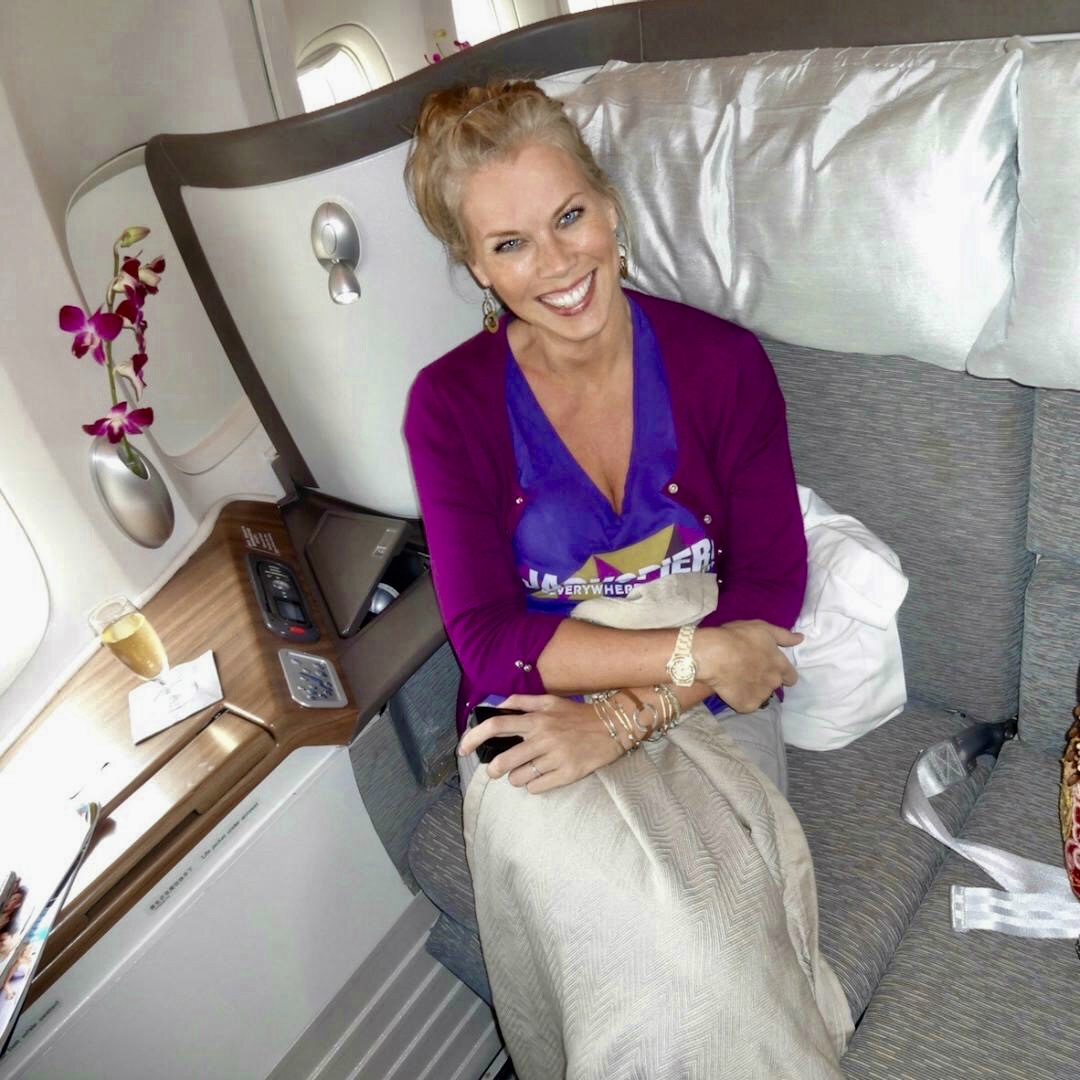 What kind of airplane seat is this, you ask? Keep reading.
The trip begins with one night in Hong Kong: have some street food, head to the waterfront. Then get on your plane to Phuket, Thailand.
Phuket Town, Thailand. Be sure to go to Bangla Road. You gotta see it to believe it. You will also have the best food of your life here. Ride a tuk tuk. Hang out on the beach.
The best food in the entire world.
I could have eaten my body weight in this fried rice. No shit.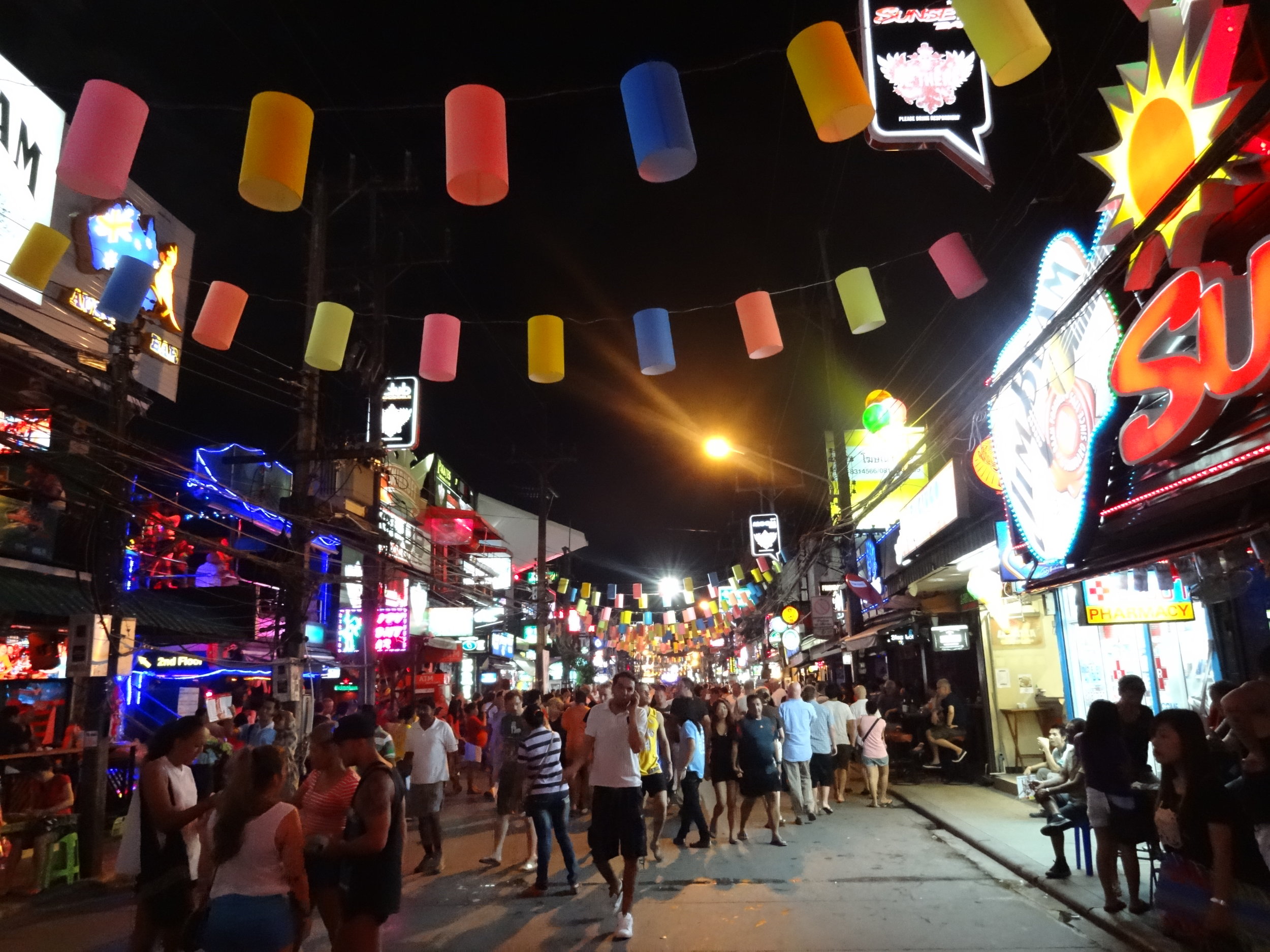 Bangla Road. Gotta see it.
You'll love it. Just be sure not to get kidnapped by the Thai army when Bob bribes them with red wine for access to the ancient cave drawings.
The movie The Beach was filmed at Maya Bay, which is now closed indefinitely because people couldn't behave themselves. If and when it opens up again, PLEASE behave yourself.
Have a cocktail or two. Pet one of the beach kittens. We named ours Scarlet.
Kuala Lumpur, Malaysia. Stay here for at least one night as a stopover between Thailand and Bali, Indonesia. The Mandarin Oriental is so cheap you won't believe it.
When you have the option of eating street food or not eating street food, eat the street food. Go To Jalan Alor & take it all in.
Now, off to Ubud, Bali!
Tiny me, having high tea on the river. Highly recommended.
Ubud's Sacred Monkey Forest.
…one of the highlights of my life so far. (That and the British tourists who were shocked that the monkeys climbed into their pockets for food, when there is a literal sign that tells you, "Monkeys will climb into your pockets for food.")
Stay at a hotel along the river like we did. Maybe you'll see a farmer bathing in it completely naked. Like we did. No, I didn't take a photo. What kind of girl do you think I am?
Ubud is the most magical place I have ever visited. The feeling in the air, the smells, the sights (monkeys everywhere, even on the street signs), the lovely people, the food, the temples... Photos don't do it justice. I want to get back and spend even more time there.
Now, take a car to Denpasar, Bali. Stay at a place on or near the beach, like this.
Thought your food in Thailand was the best? Wait until you go to the Jimbaran Bay beach & CHOOSE your own fish:
One afternoon, take an Uber from your hotel to the Kuta area, so you don't have to drive the terrible Bali traffic. Do a bit of shopping & eating. Get yourself some Chee-toes flavored like chicken (don't eat them - ew. Just buy them.).
And stop in to a bar along the beach to watch the sun go down.
So, when you are checking in to your flight from Bali to Tokyo on Cathay Pacific, be sure to ask if there are any open seats in first class. You might just get the upgrade, like we did. And when you board, they literally guide you to your "cabin."
That's an overview of a 2-week Asia experience. Please know this, too: You can do this on a budget. Backpack, stay in hostels, just GO. I had a former student who did a trip like this (10 days) for about $2000.00. The food and hotels are so cheap, there really are no excuses.
Any questions? Please leave them below. And coming soon, another Asia post, this time on Vietnam, Cambodia, and Korea.
Until then, stay Veracious, Voyagers. Stay Veracious.
-VV