Our trip to South Africa began in Germany, with a long flight into Johannesburg, and then a smaller plane into Cape Town. We stayed in a great Airbnb in Camps Bay with a view of the water. It was gorgeous. Turns out, though, they don't sell wine in that neighborhood. So, stock up before you get there.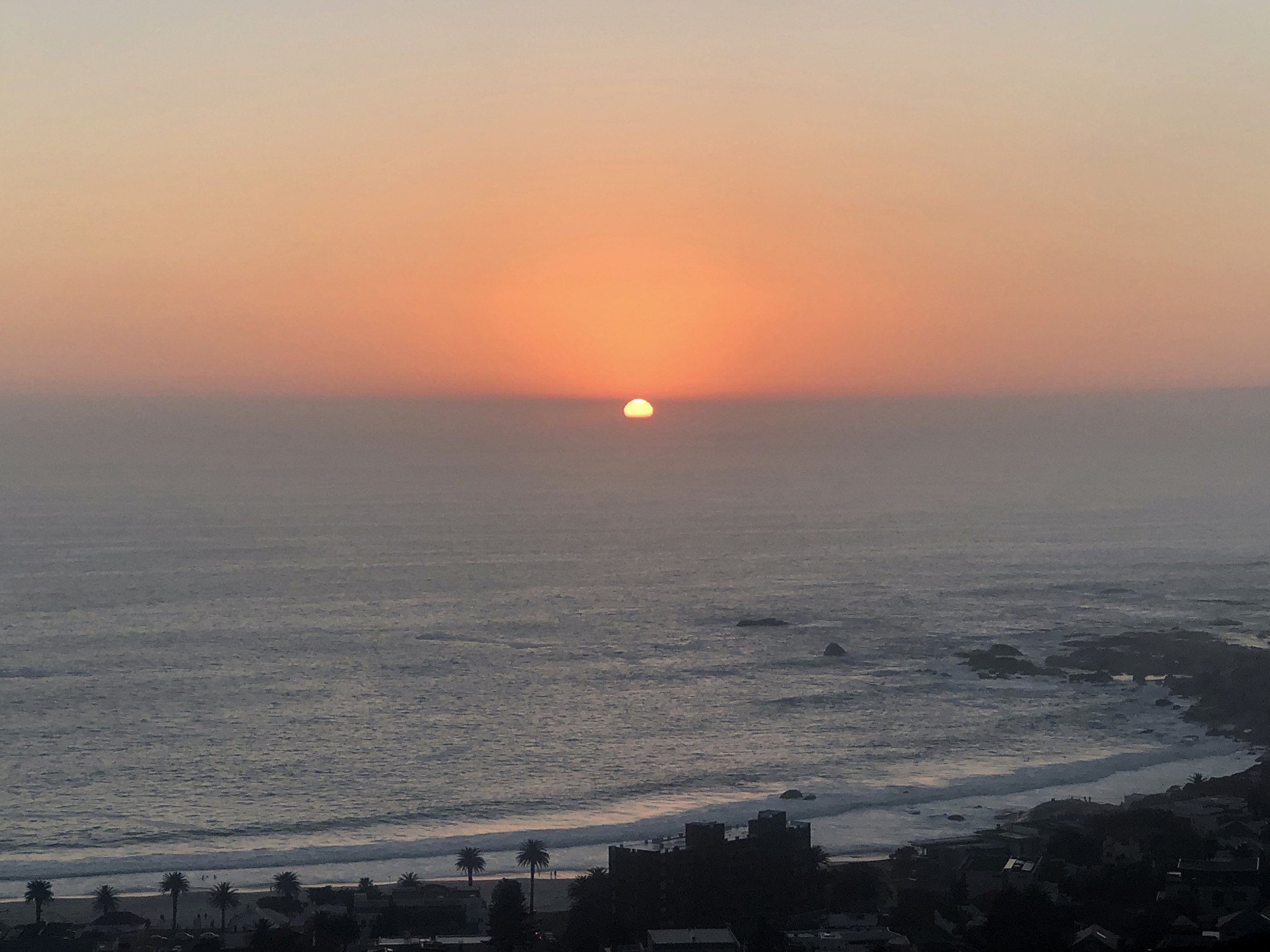 We took the cableway to the top of Table Mountain, one of the world's great natural wonders. We were there in the winter (hint: go in June-July, for fewer crowds and more animal sightings), so the lines were almost nonexistent. Get your tickets online and it'll be even faster for ya. It is so gorgeous, you'll spend hours walking around. It's also super-windy up there, so bring a sturdy jacket like this one from Kuhl. In fact, it was so windy they shut down the cableway bringing people up and ordered everyone in the diner to head down for safety reasons. They're not messing around!
On the beach in Cape Town:
Next time, though, we will likely stay in the waterfront district, which is super-pretty, with tons of walkable restaurants and shops. The food is delicious. Every steak and burger we had was outstanding on this trip. Truly.
Then we drove to the wine region, less than an hours drive north of Cape Town. They also have wine train tours, but we wanted to stay overnight there. It is so lovely. There are lots of good reds, but the Chardonnay is awesome. We stayed downtown in the little adorable city of Stellenbosch, but our place was above a bar that went on and on with the 20-somethings screaming, "Don't stop believin'" at the top of their lungs. At 2 am. So, next time, we will stay at one of the wineries. Like this one, so gorgeous.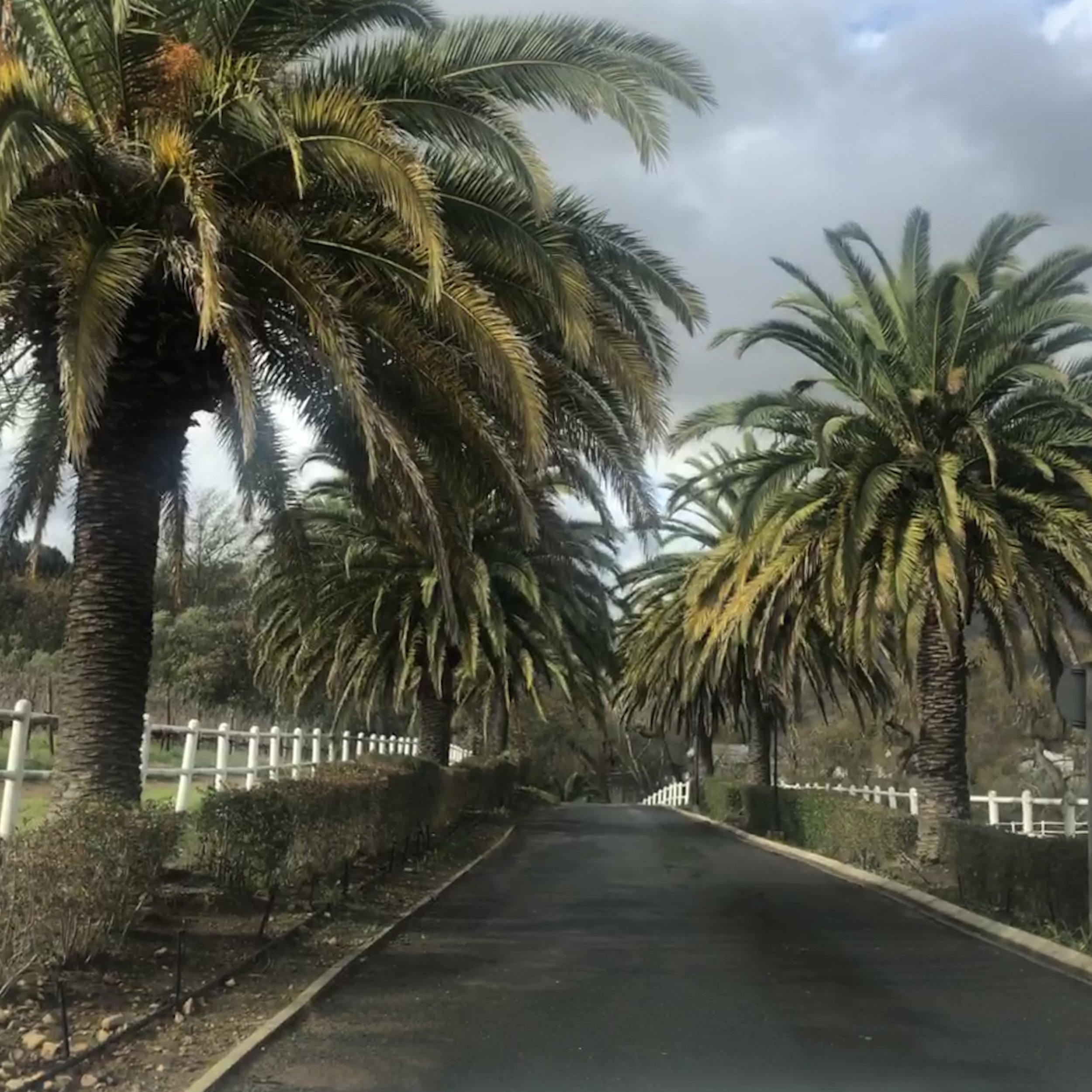 The Garden Route is one of the main tourist attractions in the country. The odd thing, though, is the 3-4 hour drive before you get to the Garden Route is prettier than that. We drove from Stellenbosch to the coast, to the beach town of Hermanus, and along the way, sights like this:
The sunrises and sunsets along the southern drive of South Africa are out of this world.
The Lookout Deck Bar, Plettenberg Bay:
Hint: when you rent a car in most places in the world, including South Africa, you have to request an automatic transmission, and it costs a bit more. It's worth it, especially for driving along the left side of the road. It's tricky. Luckily, the first rental car we had they had availability and we got an automatic. (Not so lucky the second time!)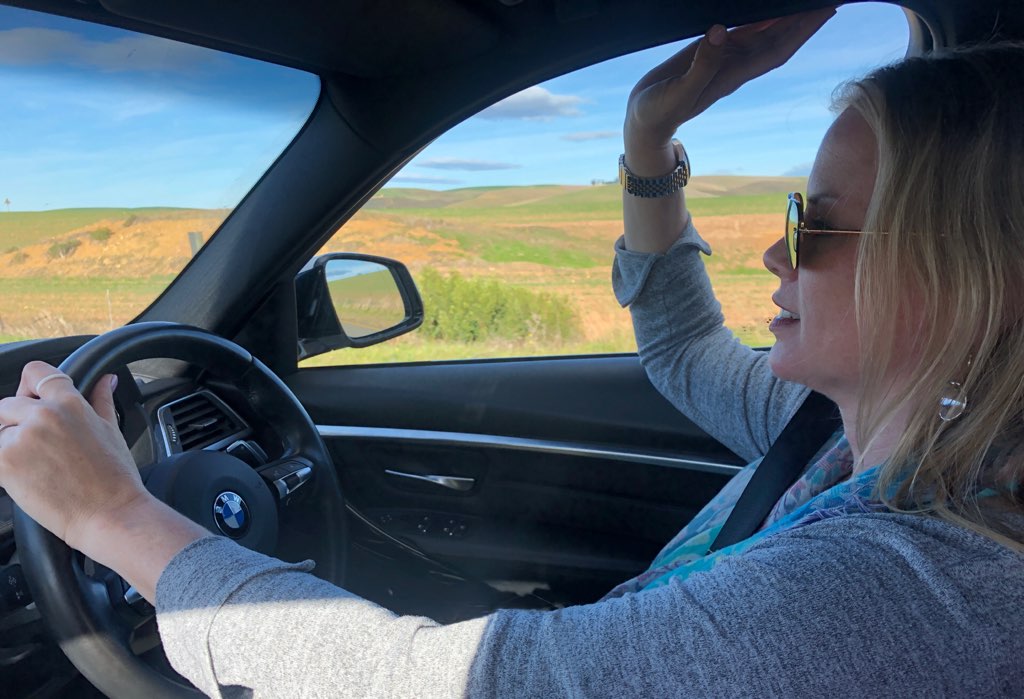 Driving along the road, the left side of the road.
We saw a sign for the elephant sanctuary and headed there as soon as we could. You get to feed them. And pet them. The two here aiming their trunks at me are mother and daughter. Their skin feels really rough, especially the older ones. Just like people. And their lashes are incredible. Just like people want.
One of the happiest times ever.
When the elephant looks like he's sitting on your shoulder:
MonkeyLand Sanctuary. We were the only guests there so we got a private tour. This lemur killed me:
Then we took a flight from Port Elizabeth up north via Jo-burgh to one of the airports near Kruger National Park and drove to the Green Fire Lodge Animal Reserve. On the super-long dirt road to the lodge, these elephants and the baby appeared on the side of the road and surrounded our car. It was beautiful.
One of the things you need to know is that you will be up at 5:30 for the morning game drive. Yes, 5:30. The animals are most active then. And bundle up. It gets COOOOOLD. But you get sights like these. Look at those lashes!
Giraffe and two white rhinos.
This was one of our favorite moments. The hyenas vs the pack of wild dogs, over a leopard's leftovers of impala. The hyenas are so mean and fierce. They will take on a pack - a PACK - of dogs, 2 vs. 6.
Our guide, Victor, who has been with Green Fire Lodge for 13 years, got a call one evening drive that a leopard was out walking along a dirt road. We TOOK OFF in the open-air Jeep to see it before it was too late. Amazing.
You know what gets a bad rap? Warthogs. They're one of the "Ugly 5" but I think they're very cool:
Then these hippos, a mama, papa, and baby. The yawning is a warning.
Turns out, the word "Zebra" sounds much cooler when it rhymes with "Debra."
Watching the South African zebras at sunset:
This little guy tore this tree out of the ground, ate three bites, then decided, nope.
Our last night at Green Fire, we were rewarded with this sunset and moonlight over a little lake:
Then we drove through the park to the southernmost section, close to Mozambique. The southern part of the park is known for the most abundant wildlife, and it did not disappoint. A word of warning: Drive carefully and slowly. Those things step out or run out onto the road very, very frequently. We were treated to this little leopard in a tree, and cheetahs along a ridge.
I cannot recommend the Shishangeni Game Lodge enough. We stayed at their Camp Shawu, which is overlooking a dam, where all the animals come to drink. And our guide could not have been more knowledgable and kind and helpful. He went out in the afternoon scouting for lions for us. And, oh, he found them. But our first morning we spent some time with this cheetah, in the afternoon more elephants, hippos, buffalo, zebras, and a very rare black giraffe came to drink from the water, right outside our room.
I am not sure I have seen much that is more moving or adorable than these parents helping their baby elephant to cross the road. They went in circles, comforting her, then the dad crossed and the mom basically was like, get it, girl! Go! And she did. Tears did come to my eyes, not gonna lie.
When you have a baby monkey hanging from your chest, and your teenager won't do what you say…
These guys look like they're so big and slow and, you know, harmless. But then you see them running toward you like this and you understand why hippos are one of the world's deadliest animals for humans. They kill an estimated 500 people per year in Africa.
Then our last evening game drive came. Our guide, Sofiso, had promised lions, oh, did he deliver. We drove up and he said, "They might be mating," and then, they did. Several times. There was even cuddling.
If you want to see the entire video, I posted it here. It's worth a look.
Then we drove back through Kruger, and the last animal we saw, a lion on that drive back through Kruger. Two of them blocked traffic in both directions. This wasn't a zoom lens. He was 3 feet away.
And on to the very nice little airport in the park, to fly back to Jo-berg, as they call it, and on to Germany, where, true story, I was interrogated by airport security as though I were an existential threat to everyone and everything. Maybe I accidentally earned it, maybe not. More on that later.
Until then, stay veracious, Voyagers. Stay Veracious.
-VV