Hello, Gorgeous Voyagers!
Let's jump right in with beauty products. If you want those baby blues or baby browns or baby greens to pop, you gotta take care of that eye area first. Clarins 2x/daily eye cream and this 2x/weekly eye mask from Elemis are going to be your new best friends.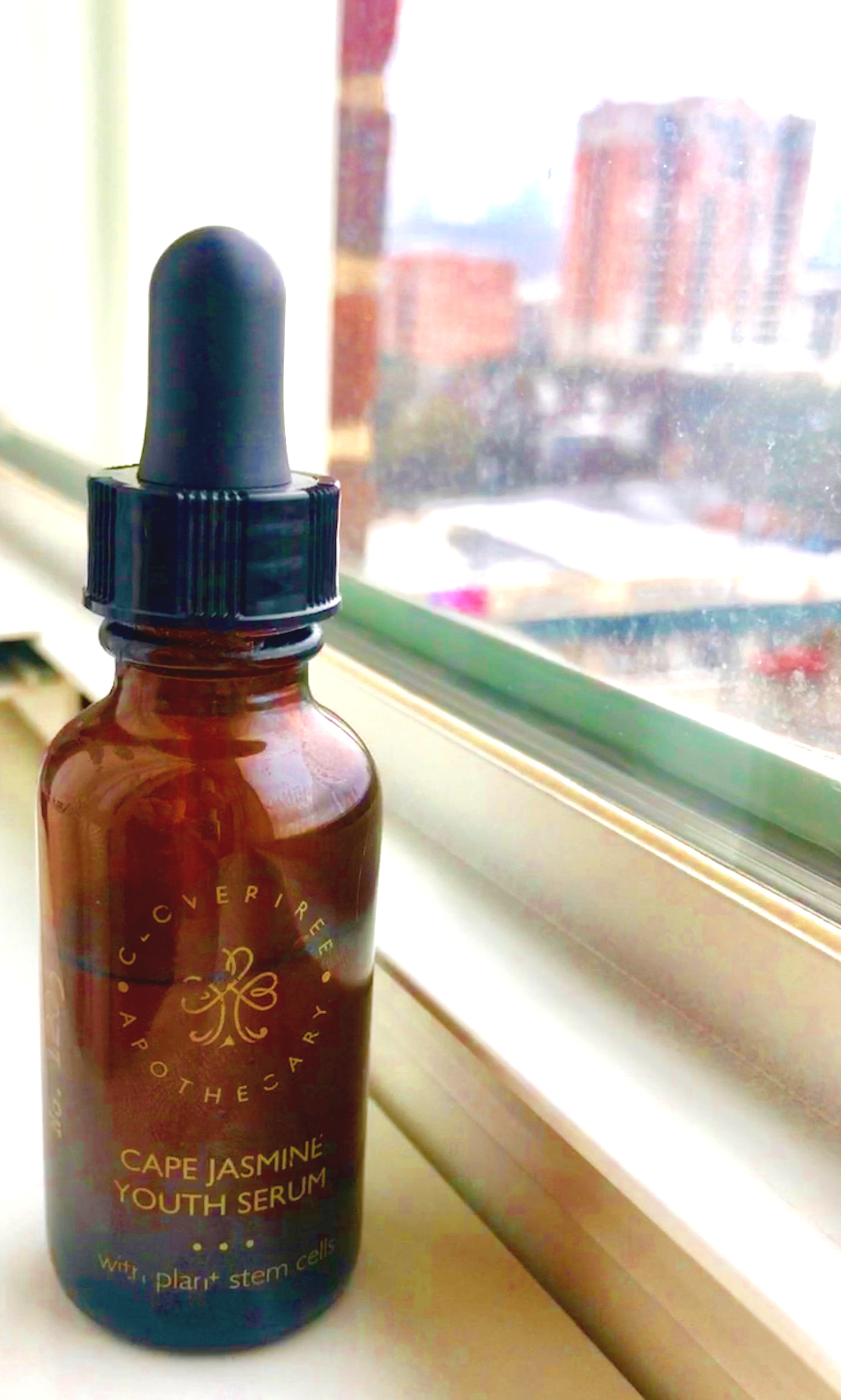 What's in this little bottle? Magic.
"Cape Jasmine Youth Serum" is a miracle product that facialist Vanessa at Spa Habitat calls Botox in a bottle. And she is NOT kidding. It's from Clovertree. Get it now. It has reduced my wrinkles, not just slowed them down, but REDUCED them in the past few weeks. Yes, I said weeks. Use morning and night, right after you cleanse and tone and before other treatments. Other than getting "Green Facials" from Vanessa at Spa Habitat, I cannot recommend enough getting Hydrafacials from Tybee at Zap-it Med Spa. Bright skin? Yes, please.
Next, put down those tweezers. Yes, stop it. Go on brow rehab for at least 2 weeks. Brows are the frames of your face (something I wish I had understood in my late 20's & early 30's)! And then get a professional to do your shaping. Get some tinted brow gel to darken and fill in what you've tweezed to death.
Time for makeup. Start with this eyeliner. Check out my Glamorous Eye blog on shadow base, brushes, and colors.
For photos, a great HD powder is a necessity.
Mascara: Alas, I knew this would happen. They discontinued Origins Ginseng for a while and reformulated it. It is just not as fabulous as it used to be. So, good news is Nars has a new mascara I am liking a lot. It can be layered pretty easily. And there is always the old standby Lancome Definicils (if you need waterproof this is your stuff).
Gloss or lipstick up and you're ready for your closeup. Here are some general guidelines:
Rule 1: If you do a dark eye, go light on the lip.
This is MAC Lipglass in Nymphette.
Rule 2: Dark lip/light eye.
But, sometimes the rules are meant to be broken, which brings me to…
Rule 3: If you're going to do a dark eye along with a dark lip, like this, focus your shadow on the upper eyelid and use a bit more brightening concealer under your eyes.
IT Cosmetics makes a great under-eye concealer.
Rule 4: If you're going to do a light eye with light lip, focus on glowy skin & then go a bit shinier on your lip.
So, after all of this, believe it or not, it's not all about the products. Turns out there are certain things to DO for the prettiest pictures ever. See my next post.
Now go forth. Make Chic happen.
VV
P.S. If y'all have any other questions about products & application of products, comment below.